MARATHON
Packet Pick Up at Expo Friday
HALF MARATHON
Packet Pick Up at Expo Friday
10k
Free Parking Near Start/Finish

Packet Pick Up at Expo Friday
5k
Free Parking Near Start/Finish

Packet Pick Up at Expo Friday
Note: If you register after August 13th, you will still receive a race shirt. The shirt color, fabric and size options are disabled on the registration form because we have already ordered the shirts and can not guarantee any particular size and color. However, there are extra sizes and colors, so you can choose what you like at packet pick up. Come early if you can. The Expo will be a wonderful experience for you, so don't miss it.  Full and half marathons are capped at 350 participants each.  There will be no further registration changes accepted after 11:59 PM September 13th. 
| Race | Starting Time | Starting Location | Finish Location |
| --- | --- | --- | --- |
| Marathon | 7:00 am | Harrisburg Middle School | Harrisburg Middle School |
| Half Marathon | 8:00 am | Harrisburg Middle School | Harrisburg Middle School |
| 10K Run | 9:00 am | Harrisburg Middle School | Harrisburg Middle School |
| 5K Run | 9:00 am | Harrisburg Middle School | Harrisburg Middle School |
* Additional processing charge added at check out.
Race-day related updates will be posted here.
Boston Qualifier Marathon
Ideal Climate, Elevation, and Weather
Fall in the Willamette Valley offers ideal climate for running a Boston Qualifier. It's cool in the morning, slim chance of rain, and lower pollen count than Spring. As you train through the Summer, your body will acclimate to the warmer temperatures. In September, when the temperature has cooled, you can come run your Boston Qualifier or your personal best. Of course, being at only 400 feet above sea level helps, too.
USATF Certified Course
Measured according to the highest industry standards. Laid out and marked by trained professionals. You can run your race feeling confident we have done our part to keep you on course and running the correct distance. Your time will count!
Flat, Simple Course
In a long race, too much up will slow you down, too much down can tire out your quads, and too many turns will confuse your brain. Fortunately, we have one of the flattest courses in the Pacific Northwest, and it's also simple. It starts at about 400 feet and drops gradually to 325. There are few turns, and each turn is marked with arrows, chalk, and friendly volunteers. On our course, your body and brain will focus on moving forward instead of up, down, or trying to get back on course!
Last Chance to qualify for Boston!*
Each year, the Boston Marathon opens registration at the beginning of September. Our race date happens just before they typically fill up and close the window. If you did not get your Boston Qualifier earlier in the year, now is your last chance. Roughly 20% of our participants qualify for the Boston Marathon at our race. In addition, most of our participants are working toward a personal goal or a first time marathon, half, or 5K. It's an inspiring atmosphere!
*Boston Marathon changes their cut-off from year to year depending on anticipated turnout and other factors, due to this some years we may not be the last qualifier.
Pre-Race Expo, Feast, and Fitness Celebration
Celebrate at the Expo
The Pacific Northwest Marathon is a unique race. We focus on celebrating the small and big achievements of everyday folks. Do you enjoy hearing from people like you who have overcome challenges to achieve their goals? Do you want to learn from educated professionals specific things to improve your fitness journey? Do you want to feel a warm sense of community with your fellow runners and know what motivates the people who will be out on the course with you the next day? Do you want to be inspired? Don't miss the Pacific Northwest Marathon Expo!
Free Food for Participants (visitors can partake at a reasonable price)
Inspiring Stories from Athletes, Average Folks, and Professionals
A chance to bond with people pursuing a common goal
Your chance to pick up your packet. Unless you have extenuating circumstances, please don't plan to get it Saturday morning at the start line. We want to greet you by name at the Expo!
Pick up Your Packet at the Expo
Bib with chip for timing your race
Course Map with aid stations detail
Parking Instructions for the race
Race Shirt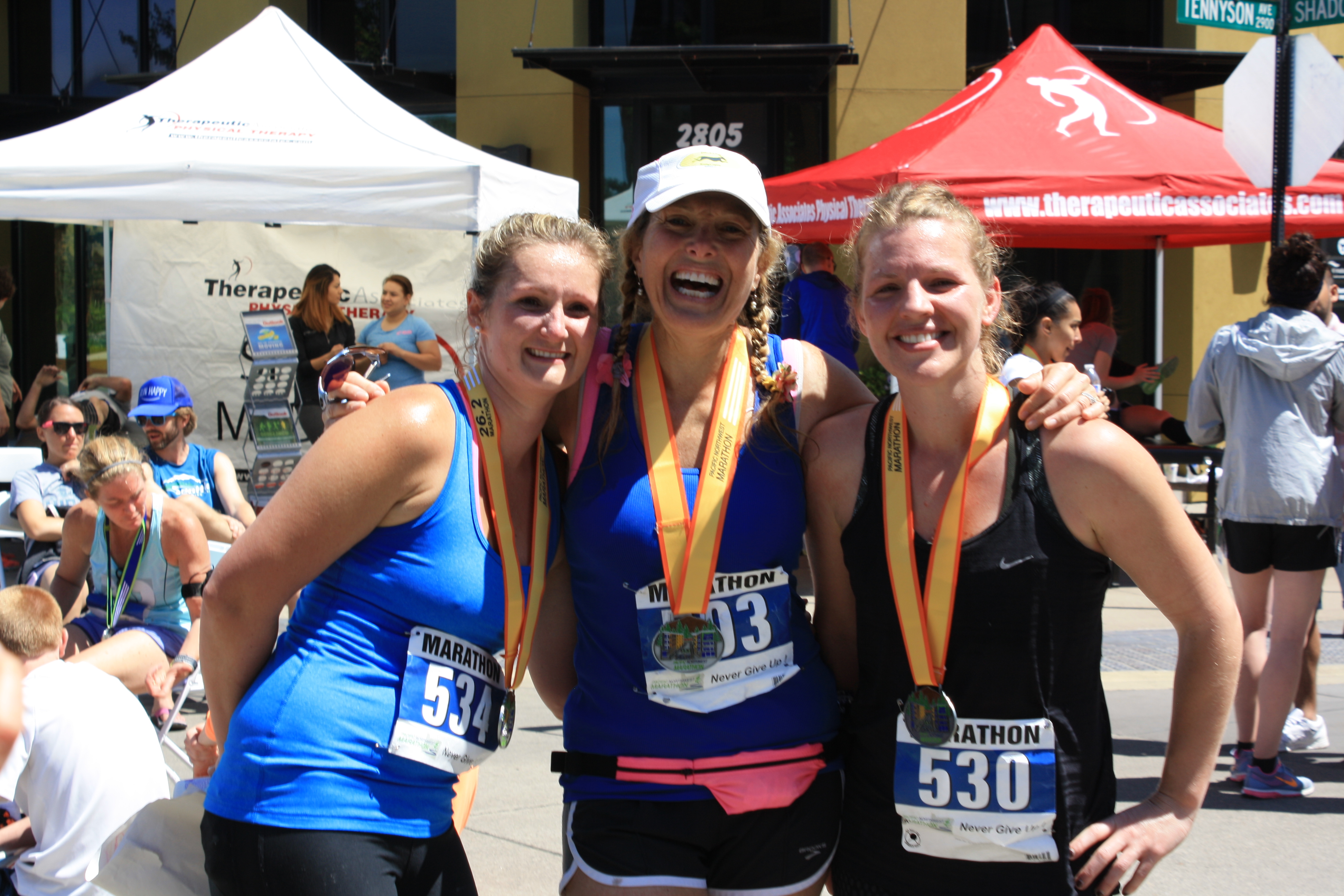 Pacific Northwest Marathon Expo
Friday, September 15th, 5:00pm – 7:00pm
Harrisburg High School
Some event parking nearby the expo.
Marathon Overall Female and Male
1st Place: $300 Cash
2nd Place: $200 Cash
3rd Place: $100 Cash
Half Marathon Overall Female and Male
1st Place: $150 Cash
2nd Place: $100 Cash
3rd Place: $50 Cash
Event Record Overall Male and Female
Marathon: $100
Half Marathon: $50
Division Winner
Division winners receive a free entry for the following year. Divisions are Male and Female for every 10 year increment.
Note: Due to staffing, pacers may be limited at the 2023 race
| | | | |
| --- | --- | --- | --- |
| 3:20 | 3:30 | 3:35 | 3:40 |
| 3:45 | 3:55 | 4:00 | 4:10 |
| 4:25 | 4:40 | 4:55 | 5:15 |
| 5:30 | 5:45 |   |   |
| | | | |
| --- | --- | --- | --- |
| 1:30 | 1:40 | 1:50 | 2:00 |
| 2:15 | 2:30 | 2:45 | 3:00 |